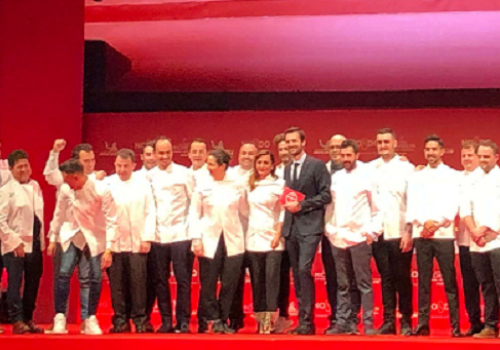 The gastronomic offer of a region is very important when choosing a destination for a MICE group. Spain and Andalusia stand out at European level with an offer of high quality restaurants, with more than 20 Michelin stars. 
In Malaga in 2020 we have 6 restaurants with a total of 8 Michelin stars (since the closing of Dani Garcia Marbella): 
Bardal in Ronda (Málaga) has 2 stars.
El Lago in Marbella (Málaga) has 1 star.
José Carlos García in Málaga (Málaga city) has 1 star.
Messina in Marbella (Málaga) has 1 star.
Skina in Marbella (Málaga) has 2 stars.
Sollo in Fuengirola (Málaga) has 1 star.
The Michelin Guide 2020 has awarded 5 new stars in Andalusia, a fairly positive outlook for an Autonomous Community that has been active for years in the gastronomic field. Some of these restaurants are suitable both for individuals and for corporate groups, like Jose Carlos Garcia in Malaga that features a large capacity and variety of spaces. 
On the Costa del Sol, Skina in Marbella has received its second star. But we also point out the fact that Malaga will have four stars less in 2020: three for the closure of the famous restaurant Dani Garcia, who wants to give a new focus to his professional life, and the one from Kabuki Raw (Finca Cortesin) that has been lost.
In addition to the official stars, the Guide offers another category of distinctions called "Bib Gourmand", which lists restaurants that offer fine cuisine at a reasonable price. In this section, Andalusia has seven new restaurants, including one in Malaga (Kava in Marbella), but also Sobretablas in Seville; Mesón Sabor Andaluz in Alcalá del Valle (Cádiz); El Espejo in Sanlúcar de Barrameda; Consolación in Cartaya (Huelva), Avío in Córdoba and Atelier Casa de Comidas in Granada.
But in addition to the gastronomic quality of the establishment, it is very important to know the options adapted for MICE / corporate groups, at the level of location, ease of access in buses, options for an "after-dinner" party , the possibilities of obtaining exclusivity or customizing the space (merchandising/branding) and especially the capacity, flexibility, entertainment options, possible solutions for briefings/speeches and award ceremonies (stage, audiovisual equipment, configuration of the room, alternative indoor options in case of bad weather, etc.). 
All these elements are crucial when organising a corporate dinner (which can include a product presentation, a speech, an award ceremony, etc.) as they are what make the difference between "a dinner" and an exceptional dining experience. That is why it is essential to ask for advice and logistical support from local specialists such as Experience Box or other event agencies who know perfectly the different restaurants and venues on the Costa del Sol.