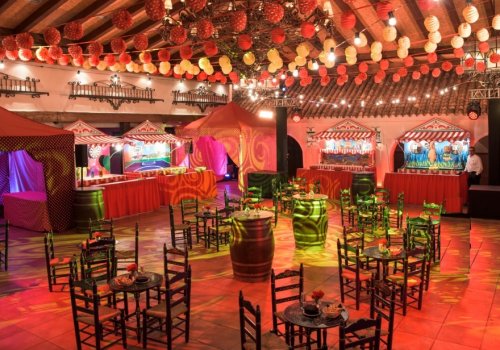 Most of the Corporate events include a special dinner... It could be an awards ceremony cocktail, a seated gala dinner, a cooking workshop or a themed night, depending on the type of venue, the type of group, the budget, the general expectations and obviously the type of event (incentive trip, product presentation, press trip, President's Club, team building experience, etc).
In any case, one thing is sure : while here in the South of Spain, it's always a good idea to enjoy a dinner with its local and traditional atmosphere. So how about recreating a private "Andalusian fair" evening ? This is a unique way to combine local culture (Spanish people are real fans of their local "ferias"), traditional gastronomy, decoration, "feria" style props, party atmosphere and obviously its fun and challenging gaming stands. You will feel like a child again, enjoying fair games like rifle shooting,  mini-basket, darts, ducks fishing and many more.
We'll also include the fair marquees ("casetas") with food stands, typical handcrafted furniture, fair lights and decorations ("farolillos") to create a real "Andalusian fair" experience that will create unforgettable memories. 
Such evenings are always "a winner", as they allow  some mingling, some competition, personalized gifts/prizes and all sorts of entertainment, like the famous hand readers, a fair magicians, a photocall with props/atrezzos, an entertaining band performance or a Flamenco show, a caricaturist, etc. 
Where can this be organized? Well, literally anywhere, from a meeting room of your hotel to a local restaurant, a conference center, a beach, in full nature, in a bull ring, in the gardens of any venue, etc. 
Find more on how to organize your Andalusian "feria" here. It will be an amazing and very complete experience for your group.