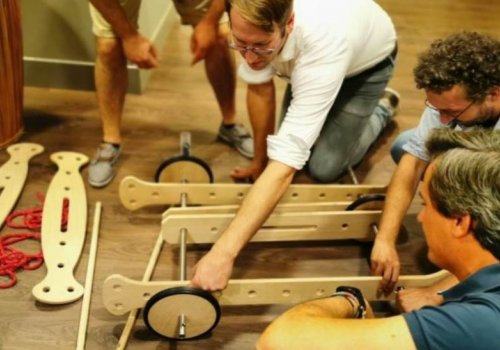 Not all group activities are meant to be related to fun, sport or gastronomy… Sometimes Corporate clients are looking to get even more out of a team building experience, like a serious analysis of the personalities, qualities and areas for improvements of their staff members.
One of the very best activity options to acieve this is definitely the F1 (Formula One) building challenge. This activity can be personalized and designed to work on different aspects of people management and empowerment, like for example: 
Leadership skills
Change management
Communication
Time management
Stress control
Sales pitching
Roles and responsibilities allocation
Creativity skills
Inerpersonal skills
Etc
The goal is simple, design and build the best F1 vehicle… But to do so you will first have to gather all the equipment and material needed (for this you will have to succeed at different games/tasks). And at a certain point of the game, things may change radically to generate a surprising situation for all participants and show if and how well and how fast they will adapt and continue with their initial goal.  But this is not all, once time is over and F1 cars are built, each team will have to present (sell) their project to the other teams and find the correct arguments to convince them that their vehicle is the best creation of the day. This part is both fun and very interesting when analyzing sales skills of the participants, as is will call upon their improvization and convincing skills.
This is a very interesting, fun, dynamic and unusual activity that all departments or companies should participante at, as it involves competition, team work, sales, creativity and interpersonal skills. It can be organized outdoor but also indoor, which makes it a great icebreaking experience also between two meetings, conferences or business sessions.