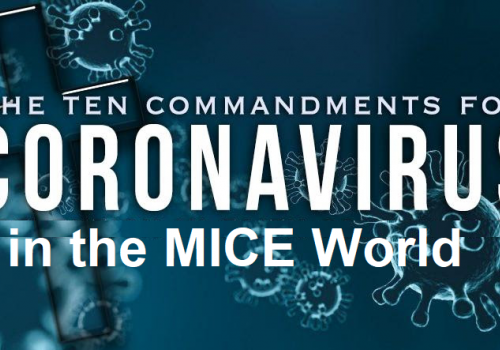 FIRST COMMANDMENT
You will love EVENTS above all things. 

You are where you are, because you like events so much and that love will be the key to enjoy them again.
SECOND COMMANDMENT
You will not take the name of the VIRUS in vain. 

This virus is very bloody, it is lethal for many, but we will defeat it and it will help us to draw very useful conclusions for the future.
THIRD COMMANDMENT
You will sanctify the MEETINGS. 

Sooner or later we will return to hold the meetings that we like so much, who knows if there will be capacity restrictions for a season, but the meetings of people will certainly return.
FOURTH COMMANDMENT
You will honour your FAMILY and your TEAM. 

Having them close and all rowing in the same direction will be vital to face the new challenges.
FIFTH COMMANDMENT
You won't fall. 

Although now you see everything in black, as the days go by you will see it a little more clearly, but now is the time to hold on and not fall into depressions or catastrophic thoughts.
SIXTH COMMANDMENT
You will not commit impure acts. 

You will maintain your work ethic, the one that has gotten you this far and the one that will help you get rise up faster.
SEVENTH COMMANDMENT
You won't fall asleep. 

Even if now more than ever, the temptation to stay on your comfort zone knocks on your door, don't do it: move on, be proactive.
EIGHTH COMMANDMENT
You will not bear false testimony.  

On the contrary, be true to yourself and to your colleagues/employees. It is important to be aware of the seriousness of the situation and from there, give everything you got to accomplish the best results.
NINTH COMMANDMENT
You will not indulge in negative thoughts or desires. 

Always positive, realistic, but positive. Find the motivation that will help you get ahead more strongly.
TENTH COMMANDMENT
You shall not covet the SUCCESSES of others. 

But it might help you to know which line to follow. Watch what your competition does, learn from them as they will surely learn from you.